July 30, 2005
Week 20
What your baby's up to
Over the last four weeks, your baby has grown an incredible amount, and has just about quadrupled his weight. He's big enough that you should be feeling "fluttering" or
"quickening"
quite regularly now. In fact, from his movements you may be able to tell if your baby is awake or asleep. Your baby is anywhere from 25 - 28 cm or 6.5 inches long and weighs 285-300 grams or 10-11 ounces.
Your baby has started to practice breathing motions, even though his lungs are not yet mature enough to breathe enough air to allow him to survive outside your body.
Lanugo
(the fine hair) covers your baby's whole body, and hair on the scalp is beginning to grow. Your baby's ears are fully functional now and he enjoys the sound of uterine noise. All the organs and structures of your baby are formed and your baby is now entering a period of simple growth. And you may be getting ready to be a grandma already: If your baby is a girl, her uterus is beginning to develop!
About you and your body
Congratulations -- you are halfway through your pregnancy!
As the baby and uterus grow, some moms report a little trouble breathing, or taking deep breaths, as their lungs become cramped with the internal organs. While not a serious complication, it can be uncomfortable. Once your baby "drops" or engages into the pelvis (which happens about four to six weeks before your due date) this will be relieved.
If you haven't yet, you might want to start coming up with some of your favorite
baby names
. It might help to look through family history for ideas or pay attention to names when you watch movies or read books. Don't forget: When thinking about a baby name, be sure to pay attention to the initials your baby will have. You wouldn't want to try to personalize something for your baby, only to realize that your baby's initials spell -- or sound like -- something you all won't be happy about down the road.
BABY MOVED!!
8/7/2005 (Friday) week 19
Buat pertama kalinya bu rasa baby gerak dalam perut.Indahnya!! Masa tu bu tengah drive nak pegi amik Nadia outing sebab dah lama tak keluar dengan dia.Rindu sahabat.Masa tunggu traffic light kat pintu masuk UiTM tu tiba-tiba..DUNG! dari dalam perut bu.Terkejut gembira bu dah dapat rasa dia menendang ke menumbuk ke tak pasti la.Yang pasti anak ibu membesar dgn sihat...Alhamdulillah..Horrey!!!
Gradual Medical Checkup
11/7/2005 (Monday) week 20
Hb 8.6 g/dl. 67.2kg. 100/60. 20cm. Gerakan baby positif.Today,that's it! Bu punye Hb merisaukan orang2 klinik ni,so bu pun kene cucuk INFERON.Masuk darah which actually not darah,macam hormon gitu la bagi increase Hb tuh.Cucuk kat punggong!Sakit wo!! Kene cucuk 7 kali selang 2 hari pulak tuh.Aduhh..sabor je la..time ni la bu demam,selsema..Baba ngan mama dah risau dah.Cian dorang...Cian lagi kat bu..Uwaaaa.....uhuk uhuk..
INFERON Dates
11/7/2005 (Monday)
13/7/2005 (Wednesday)
15/7/2005 (Friday)
18/7/2005 (Monday)
20/7/2005 (Wednesday)
22/7/2005 (Friday)
25/7/2005(Monday)
25/7/2005 (Monday) week 22
Hb 8.5 g/dl.Wat penat je sakit montot kene cucuk..Hb dok tang lagu tu gak. =P Berat, 67.9 kg. 110/70. 20 cm.Urin kotor plak tuh..hmm..but baby moved positively..
Bu.. slept soundly at 7/30/2005 09:09:00 AM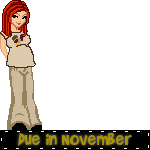 about me
*Dear All,Assalammualaikum and salam sejahtera.Welcome to Our Angel's Journey blog, khas buat our 1st coming baby after one year marriage..Let's share the story.. *Parents: Kartini(Bu)&Fairuz(Baba)
*Married: 13th March 2004(21 Muharram 1425)
*Baby will born: 29th Nov 2005(27 Syawal 1426)

Recent Journey
Setahun lebih berlalu..
9 hari lagi... (38th week and 5 days pregnant)
10 hari lagi.. ( 38th week and 4 days pregnant)
Last Trimester (Week 37-40) In Syawal
Last Trimester (Week 32-35) In Ramadhan
Last Trimester (Week 28-31)
Second Trimester (Week 23-27)
Second Trimester (Week 19-22)
Second Trimester (Week 15-18)
First Trimester (Week 10-14)

Past Journey
March 2004
February 2005
March 2005
April 2005
May 2005
June 2005
July 2005
August 2005
September 2005
October 2005
November 2005
July 2007

friends
all about parenting
Ummiku-Sayang
Pregnancy & Baby
My Sunshine 2U
Ketidaksuburan dan masalah sakit puan
Klinik Pakar Wanita Razif Norana


Click to join Ummiku-sayang
tag board
GAMBAR-GAMBAR
KISAH BU
BABA DAN KERETA
TEMPAT LEPAK
LEPAK LAGI

View My Guestbook
Sign My Guestbook